DjangoCon Europe 2023: from attendee to organizer
Hi there, I hope you're fine. A few weeks ago, I was at DjangoCon Europe in Edinburgh. I'm not sure I have completely recovered from tiredness, but it was awesome!
I'm hooked on this event. My first DjangoCon was in 2021 in remote, due to COVID, and many people told me "it's really different in real life, you should definitely try once".
And… I did!
I participated in DjangoCon Europe last year in Porto, it was amazing. I really liked the conference and meeting people, some of them that I have talked to virtually, so there was real joy seeing them in person. It was awesome. This conference helped me to become more involved in the community and learn so many things. To be honest, I don't have the best English but I was able to understand and be understood. If you have never been to a DjangoCon, you should definitely go to one. It's truly worth it.
What you need to know is that each DjangoCon Europe is run by volunteers, and the chairs have to send a proposal to the Django Software Foundation (DSF) for approval. This conference almost did not happen if you see the DSF's post about it. I didn't want that to happen so I proposed myself as a volunteer. I joined the current team especially for the website and be part of the Code of Conduct team 💖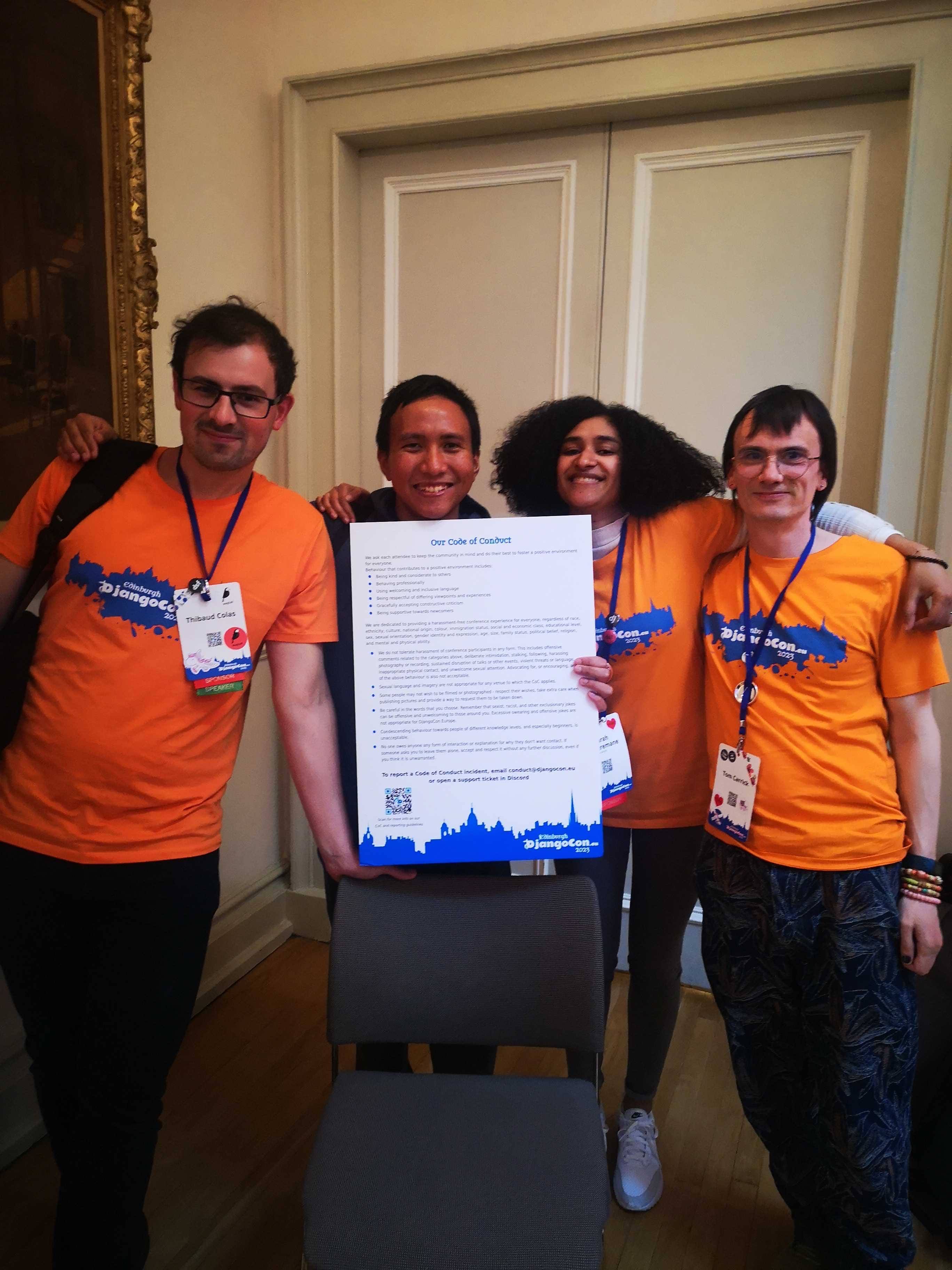 Being an organizer is a different way of fun. You don't enjoy the conference the same way, it can be exhausting, but you really enjoy the fact of seeing the conference happening and being a success especially when you know all things that happened behind the scenes.
When you look at people:
meeting and laughing together
finding their future job
finding new friends
finding help for a specific project
…
It's a priceless joy ✨
I learn many things by being "on the other side".
I didn't understand how hard it is to get a visa depending on the country you're coming from. The rules are always different. I didn't imagine how it can cost so much to host an event virtually when you have limited funds. Each detail counts, when trying to make the best event for everyone.
I'm really glad to be part of this community, and I hope to do my best to welcome people and be friendly as much as I've been welcomed myself.
If you would like to give back to Django and the community, you should consider DjangoCon Europe 2024 as a way to do so. Being an organizer or a volunteer is a great way to contribute, and it doesn't require the ability to code.
I will end this post by saying that "I joined a conference, I stayed for the community" 💚